The STATE OF SOUTH CAROLINA
PARKINSON AWARENESS PROCLAMATION
APRIL 2011

Return to top of this page
History of South Carolina Governor's Proclamations Issued for April being Parkinson's Awareness Month

Each April, the majority of the states in our nation have Governor's Parkinson's Awareness Proclamation signing or presentation ceremonies. South Carolina has had Proclamations issued by our state Governors in the following years

No Proclamations issued prior to 2006
2006 = Yes Proclamation issued
2007 = Yes Proclamation issued
2008 = No Proclamation issued
2009 = Yes Proclamation issued with a Lt. Governor's ceremony
2010 = Yes Proclamation issued with a Governor's ceremony
2011 = Yes Proclamation issued

The SC State House Governor's Proclamation ceremonies with our elected officials have been a major way for the SC Parkinson's community to help create Parkinson's awareness among the citizens of our state. SC Governor's Proclamation events are another opportunity for South Carolina to join with the other US states in our nation, and with other nations to publicly celebrate April as "Parkinson's Awareness Month".

Return to top of this page
On April 6, 2011, the United States Senate officially declared April as the National Parkinson's Awareness Month!


The Parkinson community is grateful to U.S. Senator Debbie Stabenow (D-MI) for introducing Senate Resolution 134

, and to Senators Johnny Isakson (R-GA), Mark Udall (D-CO), Mike Johanns (R-NE), and Kay Bailey Hutchison (R-TX) for joining as cosponsors.  With their support, and that of the Congressional Caucus on Parkinson's Disease, our community will continue to raise awareness of Parkinson's disease both in April and throughout the year.


"You can't go up to more than a handful of people on the street before finding someone with a mother, father, brother, sister, or close friend who's been touched by Parkinson's," said Senator Mark Udall (D-CO).  "This makes our task of increasing awareness of this horrible disease that much more important - there is a continuing need for more robust biomedical research, better treatments, and more community involvement to fight Parkinson's.  That's why I am proud to introduce this resolution with my Senate colleagues."

"As a co-chair of the Senate Caucus on Parkinson's disease, I am working to find better treatments for this devastating neurological disease.  That is why I am proud to introduce legislation recognizing April as Parkinson's Awareness Month," said Senator Debbie Stabenow (D-MI).  "We know so little about neurological diseases such as Parkinson's but we all know someone who has been impacted by them.  With this resolution, we honor those who live with Parkinson's and encourage those conducting the medical research that could hold the key to new breakthrough treatments."
Return to top of this page
Congratulations
to the "

Parkinson Support Group of the Upstate

" in Greenville SC on obtaining a Parkinson's Awareness Proclamation by the City of Greenville -and- also on their successful April 2, 2011 Parkinson's symposium. 
http://www.psgotu.org/
Return to top of this page
Why does the Columbia Parkinson's Support Group and other Parkinson's groups/organizations have a red tulip as part of their logo?

The tulip symbol, the "Dr. James Parkinson Tulip", has been adopted by many Parkinson's disease organizations and groups around the world. The story of the Parkinson tulip began in 1980 in the Netherlands when J.W.S. Van der Wereld, a Dutch horticulturist who had PD, gave the name "Dr. James Parkinson" to the red and white tulip he had developed.

On April 11, 2005, this red "Dr. James Parkinson Tulip" was launched as the Worldwide Symbol of Parkinson's Disease at the 9th World PD Day Conference in Luxembourg.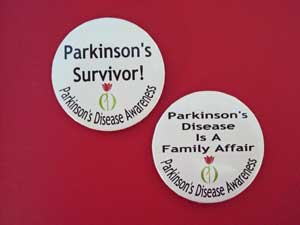 Parkinson Awareness Buttons
Photo by Dottie Gantt

SITEMAP
Copying, reproducing, or redistributing any images or text content without written permission is prohibited.
©2008 by Columbia Parkinson's Support Group (CPSG), All Rights Reserved.
Page Last Updated February 11, 2018
Site designed and maintained by Dottie M. Gantt


WEBSITE DISCLAIMER --- The CPSG has made every attempt to ensure the accuracy of information provided on the CPSG website. All information on the CPSG website is intended for informational purposes only and is not intended as medical or legal advice or recommendations. Any links to other websites found on the CPSG website are owned by third parties and the CPSG will not take responsibility for the information or content thereon. Links to such third party sites are not to be taken as an endorsement by the CPSG of the third party site or any products, services, or processes being offered by the third party.