The STATE OF SOUTH CAROLINA
PARKINSON'S AWARENESS PROCLAMATION
APRIL 2017






JOIN US TO HELP US TO CELEBRATE

IN SOUTH CAROLINA & THE UNITED STATES OF AMERICA

PARKINSON'S DISEASE AWARENESS MONTH!

FRIDAY, APRIL 1, 2016 THROUGH
SATURDAY, APRIL 30, 2016


Each April, the majority of the states in the United States of America have a Governor's Parkinson's Awareness Proclamations issued.

The South Carolina Governor's Proclamation, issued by our Governor Nikki Haley is one way for our state and the Parkinson's community to help create Parkinson's awareness among the citizens of our state.

The South Carolina Governor's Proclamation is opportunity for South Carolina to join with the other US states in our nation, and with other nations worldwide to publicly celebrate April as "Parkinson's Awareness Month".
Return to top of this page
Photo from
maltaparkinsons.com

Why does the Columbia Parkinson's Support Group and other Parkinson's groups and organizations have a red tulip as part of their logo?



The tulip symbol, the "Dr. James Parkinson Tulip", has been adopted by many Parkinson's disease organizations and groups around the world. The story of the Parkinson tulip began in 1980 in the Netherlands when J.W.S. Van der Wereld, a Dutch horticulturist who had PD, gave the name "Dr. James Parkinson" to the red and white tulip he had developed.

Note: Some PD organizations have a yellow tulip.

For the complete story about the "Dr. James Parkinson Tulip" click here

Return to top of this page
Another Tulip Symbol for Parkinson Disease Awareness



The tulip — a red flower with distinctive leaves shaped like the letters "p" and "d" — was designed by a "Young Onset" person with Parkinson's (PWP) from Washington state — Karen Painter.

"While grassroots support for making Karen's tulip the national symbol for Parkinson's awareness is growing, organizations and volunteers are encouraged to be proud of their organizational affiliation; and to use their own organization's symbol with pride. They should feel free to also use the PDTulip as a symbol that can represent ALL people with Parkinson's and ALL organizations and ALL scientists in the US who are working for the cure. Please show your support of the PDTulip for Parkinson's Awareness." by Supporters of the PDTulip for Parkinson's' Awareness
Return to top of this page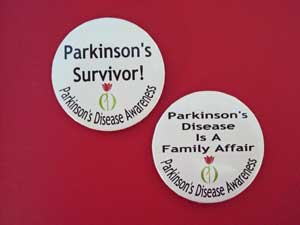 Parkinson Awareness Buttons Designed by Kay Perricelli
Photo by Dottie Gantt

SITEMAP
Copying, reproducing, or redistributing any images or text content without written permission is prohibited.
©2008 by Columbia Parkinson's Support Group (CPSG), All Rights Reserved.
Page Last Updated February 11, 2018
Site designed and maintained by Dottie M. Gantt


WEBSITE DISCLAIMER --- The CPSG has made every attempt to ensure the accuracy of information provided on the CPSG website. All information on the CPSG website is intended for informational purposes only and is not intended as medical or legal advice or recommendations. Any links to other websites found on the CPSG website are owned by third parties and the CPSG will not take responsibility for the information or content thereon. Links to such third party sites are not to be taken as an endorsement by the CPSG of the third party site or any products, services, or processes being offered by the third party.